Are you looking to take your health and fitness goals to the next level? Having a workout plan is one of the best ways to make sure that you're consistently pushing yourself and working towards your goals. I Am Capable Fitness Coaching offers customisable workout plans tailored specifically for different stages of an individual's journey, from beginners just getting started with exercise, to experienced athletes who need a challenging program to reach their highest potential.
A well-crafted workout plan should include exercises that are designed to maximise efficiency and effectiveness, while avoiding injury or fatigue. With a customised workout plan, you can target specific body parts or muscle groups and develop your strength, flexibility, endurance, and overall physical condition. Furthermore, having a structured routine will help keep you motivated as it takes away the hassle of having to figure out what exercises are best for your individual goals.
At I Am Capable Fitness Coaching, our team provides ongoing support throughout your journey so that every step is easy and effective. Our workout plans are completely customisable so that no matter what stage you're at in terms of fitness level or experience, we can create an individualised program for you. You also have access to additional resources such as nutrition tips and meal planning advice that you can incorporate into your routine for even better results.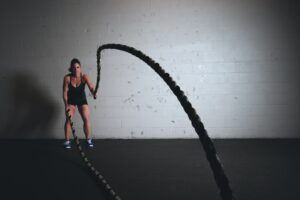 Benefits of a Workout Plan Include:
Increased strength and flexibility: Regularly following a workout plan will help you build strength and flexibility over time, giving you the ability to perform more difficult movements with ease.
Improved endurance and overall physical condition: A strong workout routine will help you improve your stamina, allowing you to go longer and harder during exercises. This can also lead to increased energy levels throughout the day.
Injury prevention: When you have a plan in place, it's easier to focus on form and technique, which can reduce the risk of injury.
Increased motivation: Following a structured routine makes it easier to stay motivated and on track with your goals.
If you're serious about taking your health and fitness journey up a notch, then having a customised workout plan designed specifically for you is the perfect way to do it. With I Am Capable Fitness Coaching's expertise and support, you can be sure that every step of the way will lead towards success in achieving your goals!
Whatever your goals or experience level may be, I Am Capable Fitness Coaching has the right program for you. Join today.